Will We Hold It Wednesday – Nasdaq 5,400 Edition

5,440 was our line in the sand.
Since March 21st we've been using that line to short the Nasdaq Futures (/NQ) as a move above that line was in no way justified without some real improvements in earnings and now, with earnings season upon us, we're still not seeing evidence yet that the market should be breaking higher.  
In that same 3/21 post, we had 11,550 on the broader NYSE and now the NYSE is at 11,375 – down 175 (1.5%) while the /NQ is back at 5,415 this morning.  Our Long-Term Portfolio was up 148.9% that morning and, as of yesterday's close, we're at +162%, gaining $65,402 in less than a month so we certainly aren't complaining about the extended rally and, as I said at the time, BALANCE is key and we have been using some of those profits to bulk up our hedges into earnings.
Aside from being long on the Nasdaq Ultra-Short ETF (SQQQ), we also have shorts on Nasdaq leaders Amazon (AMZN) and Tesla (TSLA) and neither one of those are doing well at the moment as more and more money has been pouring into the leading stocks while the rest of the Nasdaq has been selling off.  Propping up the index leaders while selling the rest keeps the "dumb money" flowing into the Nasdaq while the "smart money" heads for the exits – leaving the dumb money to hold the bag.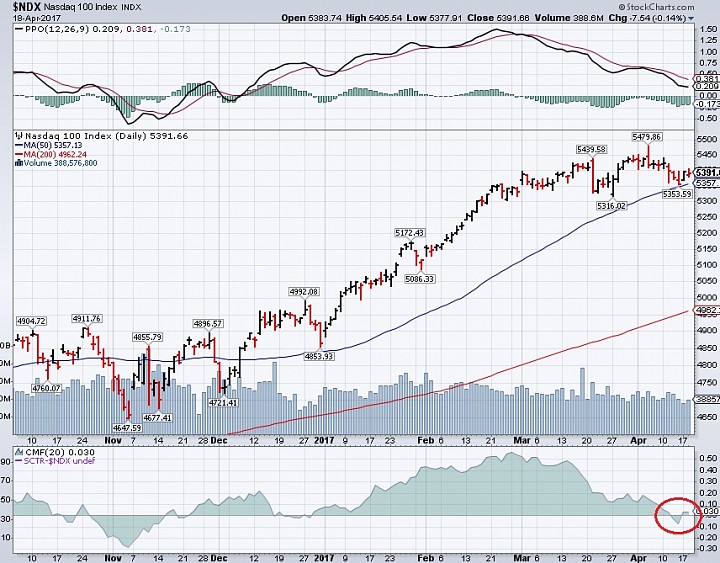 The Chaikin Money Flow (CMF) is an oscillator derived from the Accumulation/Distribution Line. CMF values are calculated by adding all the A/D line values for the period and dividing this by the total volume for the period.  When there is strong buying pressure with high volume, this pushes the indicator higher and strong selling pressure with reduced volume pushes the indicator lower. The Accumulation/ Distribution line either reaffirms the trend or gives a warning that the trend is about to change direction. 
We had massive inflows into the markets since the election and especially since the beginning of the year but there was a drastic turn in mid-March and money was actually flowing out of the market last week.  Seems to me people are getting nervous and the VIX confirms this – the only thing not confirming it is the PRICE (not VALUE) of the Nasdaq because it's being manipulated to to keep attracting that ETF money – even as the manipulators dump their shares.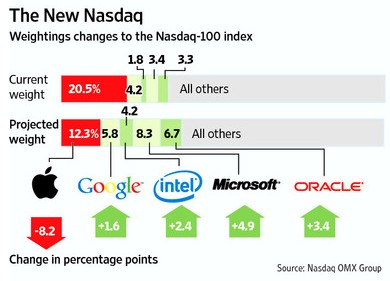 Manipulating an index is easy to do when the top 10 stocks are 53% of the index by weight.  TA people don't take these sort of things into account – they act as if it's a level playing field and this is why charts aren't worth the paper they are printed on (not that anyone prints anymore).  
So the only earnings we really care about are going to be the Nasdaq's Big 10 because it's the Nasdaq that is leading all the other indexes higher and the Nasdaq is, in turn, being led higher by these 10 stocks.  If that illusion falls apart (spoiler alert) – there's a very, very naked Emperor standing behind the market curtain.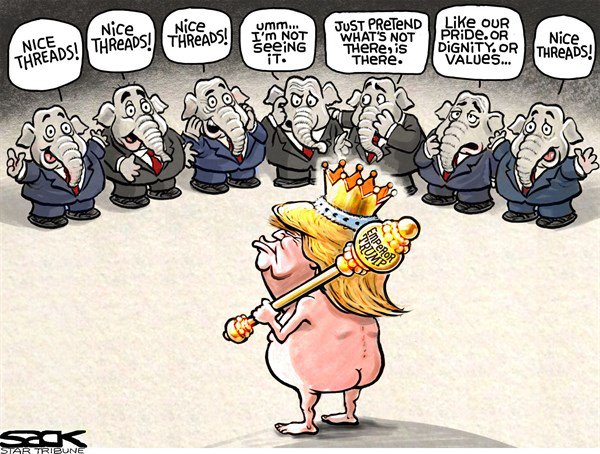 Speaking of news from the Empire, North Korea had a good laugh at our expense as it turned out the aircraft carrier Trump said was heading to NoKo was actually thousands of miles away and heading in the opposite direction.  Pence rushed out to cover up for Trump's clear lie by standing on another aircraft carrier (the Ronald Reagan) in Japan and saying it would be "deployed" but the Reagan is in Japan for service and will "deploy" as scheduled – in a few weeks.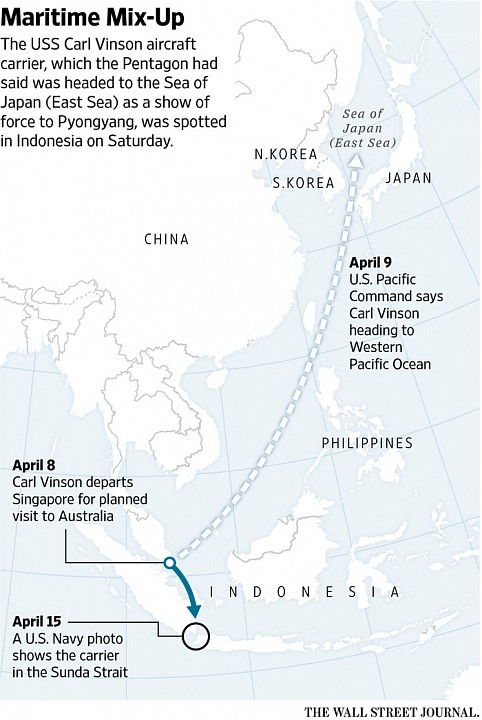 In North Korea, the U.S. Navy's admission that the Carl Vinson was actually thousands of miles away on exercises off Australia's coast and won't arrive to the Korean Peninsula until next week prompted the state-run news service to say Washington "now bluffs that it was a 'warning' act" against the country.
In South Korea, Hong Joon-pyo, the presidential candidate from former leader Park Geun-hye's ruling party, said: "What Mr. Trump said was very important for the national security of South Korea. If that was a lie, then during Trump's term, South Korea will not trust whatever Trump says."  Chinese news portal Guancha.cn declared: "Media around the entire world have been duped by Trump again!"
Credibility matters folks, especially if we teeter off into another Global Financial Crisis, whether it's ignited by China's housing bubble bursting or Japan's debt spiraling out of control or Frexit or war in Korea/Syria/Afghanistan… or simply a slowdown in US consumer spending – any of those things can send the markets quickly off a cliff and, whatever Trump says then – who is going to believe him? 
Believe in hedges, not false profits and keep plenty of CASH!!! on the sidelines – just in case.  These are uncertain times and the markets are priced for certain record profits – it won't take much for that premise to fall apart and, anyway, Dollars are cheap right now, back at our 99.50 buy line (/DX) and May $25 Dollar ETF (UUP) calls are only 0.75 with UUP at $25.69 so very little premium on those makes them a fun way to play outside of the Futures.
Oil inventories are today (10:30) and we shorted at $53 (/CL) in our Live Member Chat Room earlier this morning but tight stops over that line as this is the last week we'll be short – unless there's a really silly move up – until July.  A stronger Dollar will help put pressure on oil as well.
We also like the Nasdaq (/NQ) Futures short below that 5,415 line because, so far, I don't see the earnings to support even a move back to 5,440, let alone new highs.
Provided courtesy of Phil's Stock World.
Would you like to read up-to-date articles on the day they are posted? Click here to become a part of our growing community and learn how to stop gambling with your investments. We will teach you to BE THE HOUSE - Not the Gambler!