Tempting Tuesday – Declining Dollar Masks Market Decline

Do you have cash?
If so and if that cash is in Dollars, your cash lost 1.5% of it's value since Friday – unless, of course, you used those Dollars to buy stocks, which only gained 1/10th of 1% since Friday's open, so you can still trade your declining Dollars for US stocks at the same prices they were Friday.  The question is which one, if any, will hold their value better going forward.
Hammering the Dollar today is an unusual call for radical policy action from the San Fran Fed's John Williams () who is warning that our Empire is being threatened by factors beyond the Fed's control like an aging population and sluggish productivity gains which are braking growth.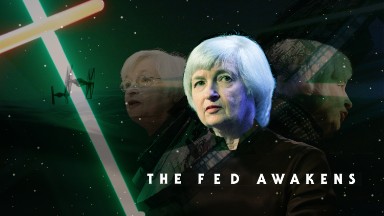 That, in turn, is keeping interest rates from rising as far or as fast as in the past; Williams on Monday estimated U.S. short-term rates would likely rise only to 3% or 3.5%, even after the economy regains full health, and perhaps not even that.
Williams floated two monetary policy changes to cope with lower rates: raising the Fed's current 2% inflation goal, or replacing its current inflation-targeting regime with some form of nominal GDP targeting. Both approaches, he said, would give the Fed more scope to lower interest rates in response to downturns. 
In other words, policy changes that will keep us in this QE cycle for A LOT longer than is currently expected.  
That's why yesterday, on the day we set an all-time high on the S&P 500, the volume was the lowest level of the year, coming in at just 48.6M on the ETF (SPY), 20% below the previous day and barely more than 1/10th of the volume we dropped on in late June.  That's right, the entirety of yesterday's SPY volume wouldn't even cover a single hour of selling on a down day – house of cards, indeed!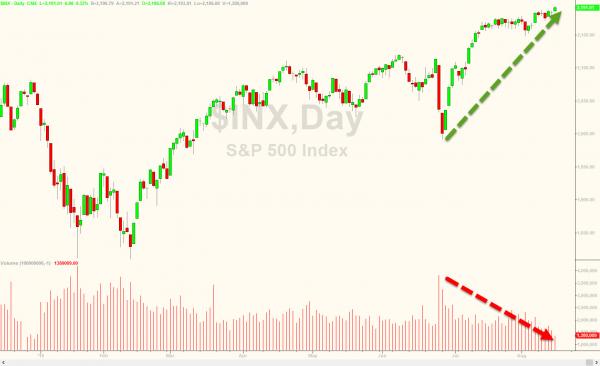 During this whole rally, the volume has been heading lower and lower, even as the index has headed higher and higher and the last time volume was this low was last Christmas, right before the S&P fell from 2,075 back to 1,850,…
Provided courtesy of Phil's Stock World.